A day at the beach is all about relaxation, soaking up the sun, and enjoying the waves. However, the salty air, humidity, and wind can make styling your hair for a beach day challenging. Whether you have long, short, curly, or straight hair, finding the perfect beach hairstyle that can withstand the elements is crucial to enjoying your day without constantly worrying about your hair. From choosing the right hairstyle to maintaining it, we've got you covered. So, grab your sunscreen and towel and let's get started!
Choosing the right hairstyle
Choosing the right hairstyle for a day at the beach can be a bit tricky, as you want to pick a style that not only looks great but can also withstand the elements. Here are some things to consider when choosing the right hairstyle for the beach:
Firstly, consider the length of your hair. If you have long hair, you may want to consider pulling it back into a ponytail or a bun to keep it out of your face and away from the water. If you have shorter hair, you may want to try a textured pixie cut or a layered bob that can withstand the wind and humidity.
Secondly, pick a style that can withstand wind, water, and humidity. You want a hairstyle that won't frizz or fall apart as soon as you step outside. Look for styles that are low maintenance, such as loose waves, messy buns, or braids.
Here are some hairstyle ideas for different hair types and lengths:
Long hair: messy bun, loose waves, fishtail braid
Medium length hair: top knot, beachy waves, messy half updo
Short hair: textured pixie cut, layered bob, twisted updo

Beachy waves without heat
Beachy waves are a classic and effortless look that is perfect for a day at the beach. The good news is that you can achieve this look without using heat, which means you won't have to worry about damaging your hair. Here are some easy and heatless ways to create beachy waves.
One way to create beachy waves without heat is by using braids. Simply braid your hair while it's damp and leave it overnight. In the morning, undo the braids and use your fingers to gently separate the waves. You can also try braiding your hair into multiple smaller braids to achieve tighter waves. This technique works particularly well for those with naturally curly hair.
Another way to get beachy waves without heat is by using a sea salt spray. Spray it on damp hair and scrunch your hair with your hands to create waves. You can also twist small sections of your hair and then spray the salt spray to create more defined waves.
If you don't have access to sea salt spray, you can create your own by mixing water and sea salt in a spray bottle. Be sure to use a leave-in conditioner to prevent your hair from drying out.
Other techniques for heatless waves include using a headband to create waves, twisting your hair into a bun while it's damp, or using a sock bun to create waves. These techniques are easy, quick, and perfect for those who don't want to spend a lot of time styling their hair.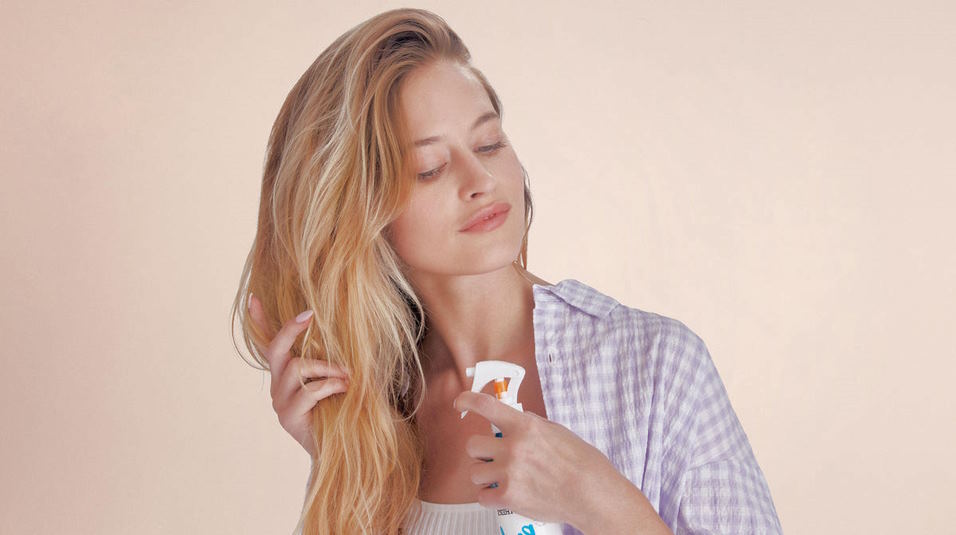 Maintaining your hairstyle
Once you have found the perfect beach hairstyle, it's important to maintain it throughout the day. Here are some tips for keeping your hair looking great, even after a long day in the sun and sand:
Firstly, touch up your hair throughout the day. Wind, water, and humidity can wreak havoc on your hair, so be sure to bring a small brush or comb with you to touch up any tangles or frizz. You can also use a bit of sea salt spray or hair oil to refresh your waves or smooth down any flyaways.
Secondly, protect your hair from the sun and saltwater. The sun's UV rays can damage your hair, so wear a hat or use a leave-in conditioner with SPF to protect your hair and scalp. Saltwater can also dry out your hair, so rinse your hair with fresh water after a swim in the ocean.
Lastly, care for your hair after a day at the beach. Use a clarifying shampoo to remove any buildup from saltwater or hair products, and follow up with a nourishing conditioner to restore moisture to your hair. You can also use a hair mask or oil treatment to give your hair some extra TLC.