The dewy look has been a popular trend in the beauty world for quite some time now, and for good reason. A glowing, radiant complexion can instantly make you look healthier and more youthful. Achieving the perfect dewy look, however, can be a bit of a challenge. It requires a combination of the right skincare routine, makeup products, and lifestyle habits. Whether you're a skincare enthusiast or a makeup novice, we've got you covered with everything you need to know to achieve the perfect dewy look.
Skincare Tips for a Dewy Look
Achieving a dewy look starts with a proper skincare routine. The first and most important tip is to stay hydrated. Drinking enough water throughout the day can keep your skin looking plump and hydrated. It's recommended to drink at least eight glasses of water a day to maintain healthy skin.
Applying a hydrating serum before moisturizer can also help lock in moisture and create a dewy effect.
Another essential step for achieving a dewy look is regular exfoliation. Dead skin cells can make your skin look dull and uneven, so it's important to remove them to reveal fresh, glowing skin. There are two types of exfoliants: physical and chemical. Physical exfoliants include scrubs and brushes, while chemical exfoliants use acids like alpha-hydroxy acids (AHAs) and beta-hydroxy acids (BHAs) to dissolve dead skin cells.
Moisturizing is also a crucial step for achieving a dewy look. Using the right moisturizer for your skin type can help keep your skin hydrated and plump. Look for moisturizers that contain nourishing ingredients like shea butter, jojoba oil, or ceramides. For an extra boost of hydration, try adding a facial oil to your routine. Facial oils can penetrate deeper into the skin, providing a more intense and long-lasting hydration boost.

Makeup Tips for a Dewy Look
Once you've achieved a healthy, glowing complexion through your skincare routine, it's time to enhance your dewy look with makeup. Here are some makeup tips to help you achieve that perfect, radiant finish:
Prep your skin: Before applying makeup, it's important to prep your skin properly. Start by using a primer to smooth out your skin's texture and create a base for your makeup. Look for a primer with a hydrating or illuminating formula to enhance your skin's natural glow. Follow with an illuminating or hydrating foundation to further enhance your dewy look.
Highlighting: Highlighter is a crucial step in achieving a dewy look. Apply it to the high points of your face, including the cheekbones, bridge of the nose, and cupid's bow. There are different types of highlighters, such as liquid, powder, or cream formulas. Choose one that works best for your skin type and desired finish.
Setting spray: A setting spray can help lock in your makeup and give your skin an extra dewy boost. Look for setting sprays that have a hydrating formula or contain glycerin to add extra moisture to your skin. Spray it onto your face after applying makeup for a long-lasting, radiant finish.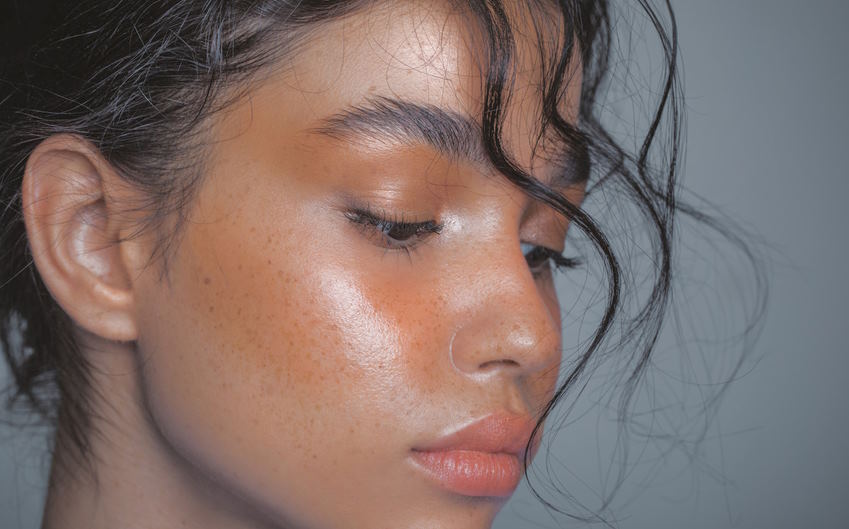 Lifestyle Habits for a Dewy Look
Healthy diet and exercise: A healthy diet and regular exercise are essential for overall health, including skin health. Foods rich in antioxidants like berries, leafy greens, and nuts can help protect your skin from damage caused by free radicals. Exercise increases blood flow and oxygen to the skin, which helps to improve skin tone and texture.
Proper sleep: Getting enough sleep is essential for healthy skin. Lack of sleep can cause puffiness, dark circles, and dull skin. Aim for at least 7-8 hours of sleep each night to help your skin repair and regenerate. Creating a calming bedtime routine and avoiding electronics before bed can help promote better sleep.
In conclusion, achieving a dewy look is not just about skincare and makeup products. A healthy lifestyle is also important for maintaining a glowing complexion. Eating a healthy diet, staying active, and getting enough sleep can all help improve the appearance of your skin and enhance your natural radiance. Incorporating these lifestyle habits into your daily routine can help you achieve a dewy look from the inside out.